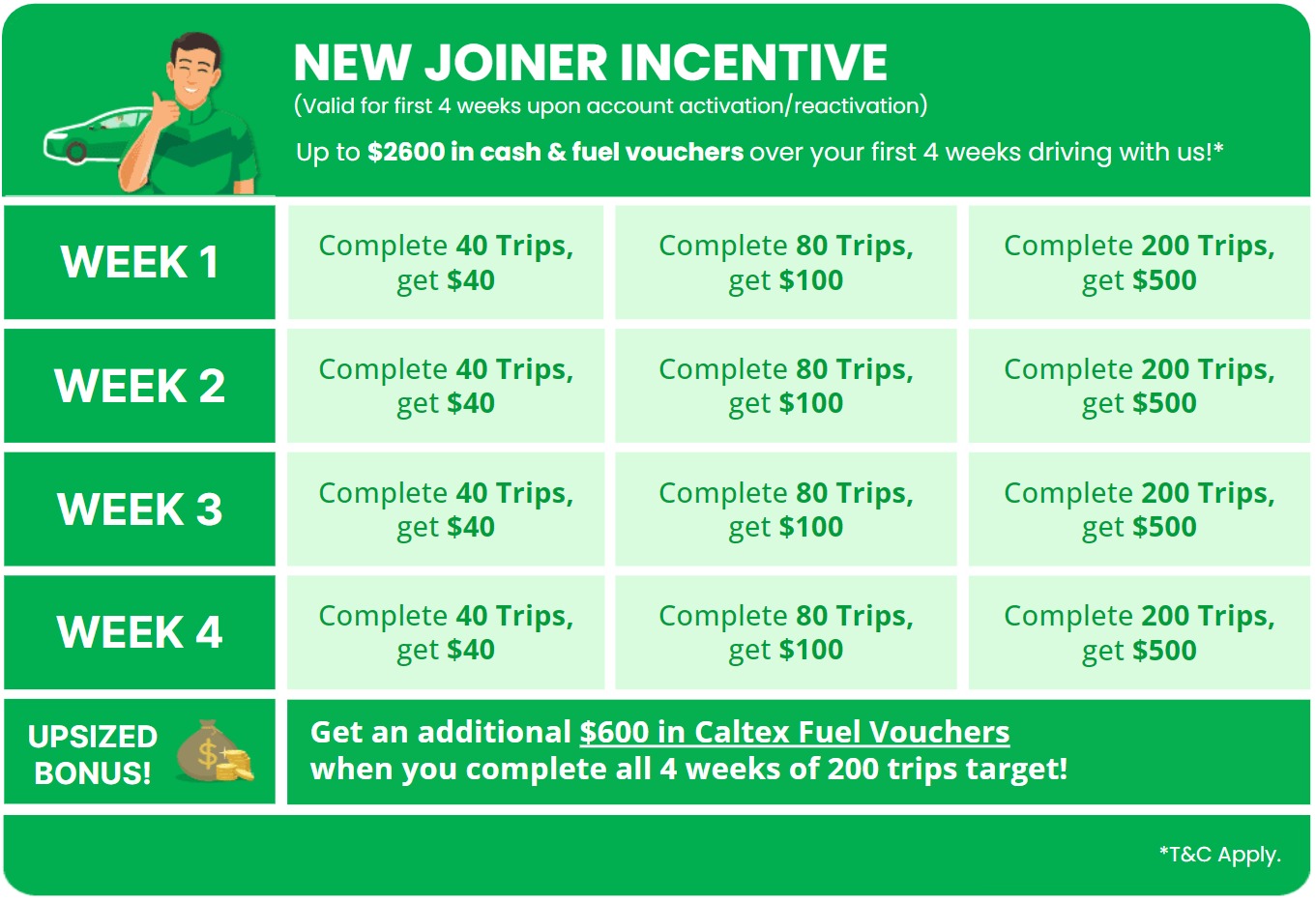 Benefits of Grab Hourly Rental
Rental from as low as $2.16/hr
No commitment or long term contract
Rent as short as one hour or up to 8 weeks with daily capped rate
Most extensive locations island wide with more than 1000+ locations
How To Signup
Step 1: Register for a Tribecar account
Go to: https://tribecar.com/new-member-tnc?referral=grabTribe and complete your registration
Step 2: Register for Grab
Click on this link and get your account approved: http://j.mp/gph-signup
Step 3: Write in to Tribecar
Capture an image or screenshot of your Grab driver's profile and PDVL, then use the provided Google Form link (https://tinyurl.com/2ms8mrpj) to complete the required fields. Please wait for our reply telling you that your account is approved and ready before making any bookings for Grab to enjoy special rates on the promotion!
Things to note:
(a) Do you need to provide Grab any information?
Simply sign up for an account with Grab and mention Tribecar as your rental partner.
(b) Do I need to attend Grab's briefing?
No, just sign up online via this link: http://j.mp/gph-signup
(c) How to update your carplate on Grab app?
To update your vehicle details with Grab,
Step 1: Go to Grab driver app and tap "Help Centre"
Step 2: Go to "Account and Setup" and submit the request via "I want to update my car plate number".

Hirers are advised to download and check the validity of the documents required (Log card (Vehicle Registration Details), Certificate of Insurance, PHV Decal) at least 1 day in advance and send in these documents 1 hour prior to your booking start time. Please contact Grab directly if your carplate is not updated 5 minutes prior to your start trip.
(d) What are the rates to drive with Grab?
All Grab drivers registered with Tribecar will be able to book the ALL car categories from only $2.70 to $6.37. These discounts only apply to hourly rates during weekdays (before Friday 5pm).
(e) I am a new driver from a non-Grab car rental/car-sharing company, is there anything else I need to do to sign up for GPH?
We need to flag your account for Grab usage. Before we can do that, please attach a screenshot of your Grab Driver's profile & PDVL through this google form link (https://tinyurl.com/2ms8mrpj)
(f) What happens when I stop driving for Grab? Am I still eligible for the discounted rates?
Your Grab status on Tribecar will be kept active as long as you have made recent bookings. Should you no longer have the intention to rent with us for Grab purposes, do let us know as well so that we can un-flagged your account as a Grab Driver. Once the status is removed, you will not be entitled to the discounted rates.
(g) How long will this program be?
We will review this program every 3 months. For as long as this program is economically viable, Tribecar will continue to run this program.
Contact Details:
Tribecar: If you require any emergency assistance during your booking, go to your Tribecar booking, click on the "Emergency No" to call us. Otherwise, please send us an email to [email protected]