Rent and join Lalamove today!
Earn at least $10/order
+
Discounted rental rates
Benefits as a Lalamove Rider & Driver Partner
At least $10 PER DELIVERY before commission
Weekly incentive pay out
No fixed slots or locations - take on islandwide deliveries!
PDVL license NOT required
Lalastars Incentive Programme for bikes and cars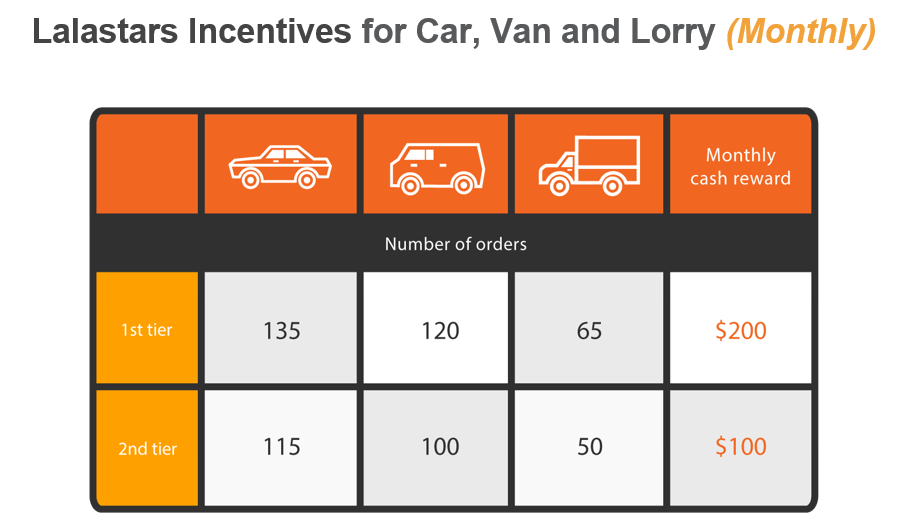 What are the requirements?
Own a smartphone with data
Valid Driving license
18 years old and above
Singaporean/PR
Sign up with Lalamove as a Tribecar driver/rider using the following steps:
Sign up HERE with the the required fields
IMPORTANT: In the 'Referred By' field, please include 'Tribecar'
Our team will be in touch with you to come on down for an information session
You're all set!
How to sign up and pickup orders?
Sign up here: https://www.lalamove.com/singapore/en/driver
Lalamove team will be in touch with you to come on down for our information session
Once verified, you will be able to pick up immediate and scheduled orders.
What type of items do I need to deliver?
Items can vary from small documents/parcels and items to food products.
Items will NOT exceed the following dimensions:

Car - 40cm X 25cm X 25cm AND/OR 8kg
Bike - 70cm X 50cm X 50cm AND/OR 20kg